Organization
2017/4/24 14:54:11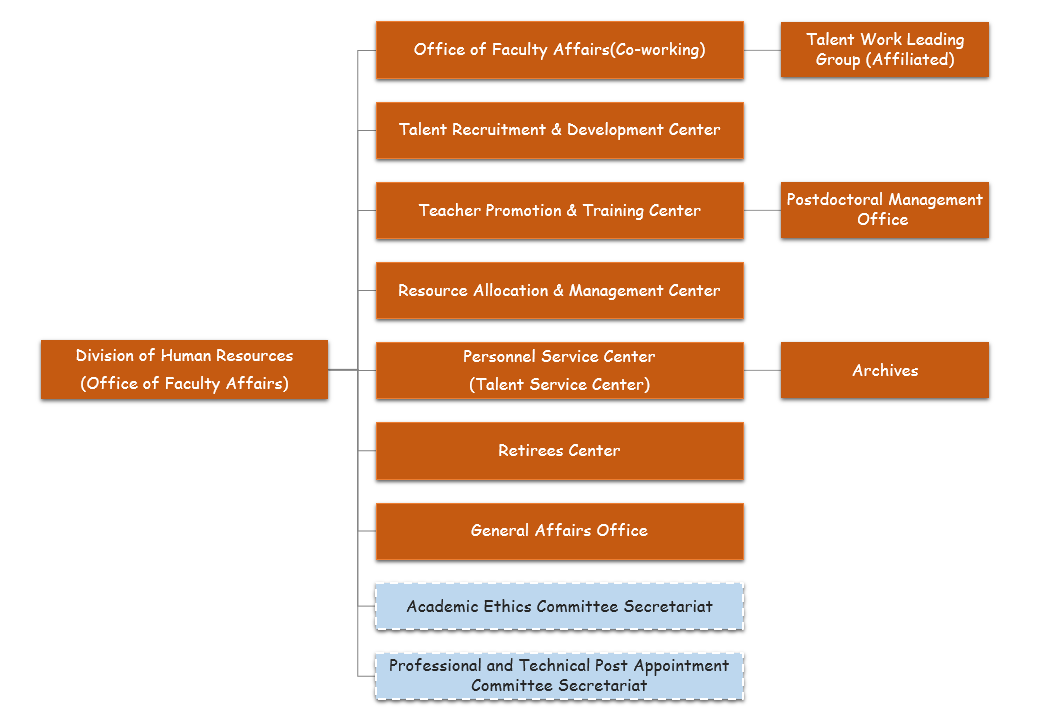 Talent Recruitment & Development Center
Recruiting High-level Talents and other levels of faculty and staff, Organizing the application for national and local talents scheme, Assisting relevant departments with talents management.
Teacher Promotion & Training Center
Providing Platforms for Career Planning and comprehensive, balanced and sustainable development of faculty and staff, including Promotion, Evaluation, Training programs, Application for Talents Scheme.
Resource Allocation & Management Center
Sponsoring personell administration for all faculty and staff, Resources Budget and Final Accounts of schools and departments, Faculty and Staff Benefits, Social Insurance, etc.
Personnel Service Center(Talent Service Center)
Fulfilling Entry Procedures and Registration Formalities,applying for Registered permanent residence,Facilitating Personell Transfer within the University, Retirement, and Demission,Managing Contracts and Personell Archives of faculty, staff and students.
Retirees Center
Developing and Implementing School Policies, Organizing Activities, Providing subsidies to people in difficulties, Researching on the aging problems, Publishing the newsletters, etc.
General Affairs Office
Constructing the personnel information system, Maintaining the website of Division of HR, Personnel statistics; Managing archives of Division of HR, Document flow; Approval of telephone reimbursement; Managing office equipments, office supplies, official seals; Organizing office conferences, etc.
Academic Ethics Committee Secretariat
Professional and Technical Post Appointment Committee Secretariat
close window